When an invoice becomes overdue, an alert will be displayed in the Credit Mgmt tab of the Business Alerts window. On this one tab, all Acctivate users who are given permission can quickly see all of the credit problems.
Overdue invoices are automatically placed in the Overdue Invoices tab within the Credit Mgmt. tab.
Keeping Track of Overdue Invoices:
Select Alerts > Business Alerts to open the Business Alerts window.
Select the Credit Mgmt tab.
Near the bottom of the Credit Mgmt. tab, select the Overdue Invoices tab, which will display a list of all overdue invoices, as of the current day ordered by invoice number.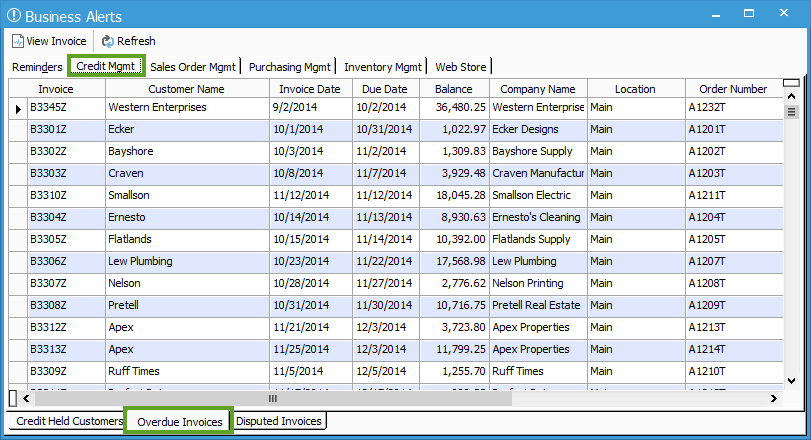 Viewing the Customer Invoice for a specific overdue invoice
To view more information (the customer invoice) about a particular overdue invoice, select its row (data grid line) and either double-click the row or click the View Invoice button to open the Customer Invoice window.
From the Customer Invoice window, you can view the sales order (click the View Order button) or customer (click the View Customer button) for the overdue invoice.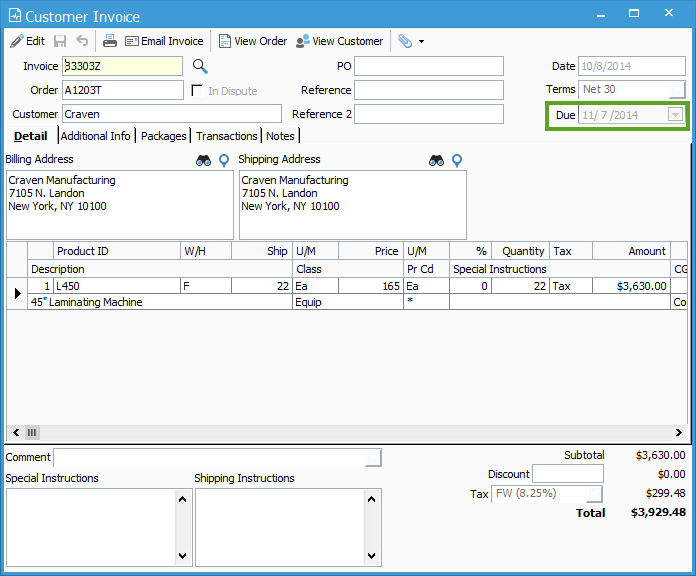 Viewing overdue invoices in Customer window
If you chose to open the Customer window (from the customer invoice, as described in the above step), it will automatically go to the Invoices tab of that customer.From there you can view all overdue invoices for that customer.
Review the provided information about each overdue invoice, especially the amount billed, paid and the balance. The information provided in the above described windows and tabs will help you begin the collection process for those overdue invoices.