Credit card information can be stored and maintained in Acctivate. This ability is highly secure and protected. Credit card numbers are encrypted at the highest level and never printed in entirety. Also, specific users can be given or denied access to credit card information in Acctivate.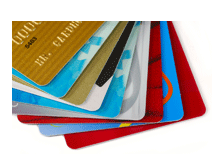 QuickBooks 2008/8.0 included enhanced security to limit access to credit card information.
In order to synchronize credit card information either way, make sure that in QuickBooks under Preferences > Integrated Applications that 'synchronize credit card information' is enabled.
Granting Acctivate users access
By default, none of the Acctivate users will have access to the credit card information until the system administrator grants them permission.
Follow the steps below to give the necessary users permission to view or maintain credit card information:
Select File > Configuration Management to open the Configuration Manager.
Select User > User Information.
Expand the folder of the Acctivate user for whom you need to set the permission level.
Expand the CustomerInfo folder.
Select the Credit Card Information folder and click the Edit button.
In the Permission section at the top-right, select the appropriate permission level for the user from the Credit Card Information drop-down menu. You can choose from three permission levels:
Maintaining credit card information in Acctivate
Users with permission to maintain can enter and modify credit card information for each customer. All credit card information, except the Card Security Code (e.g. CVC) can be stored in Acctivate.
Selecting a Preferred Payment Method
Select Customer > Customer Information to open the Customer Information window. Use the lookup to open the appropriate customer.
Select a payment option from the Preferred Payment drop-down.
These options are set and maintained in QuickBooks, but you can mark a preferred payment as a credit card method in the Configuration Manager > Sales Orders > Payment Method.
Entering/updating credit card information
Remain in the Credit tab of the Customer window and click the Details button next to the Exp. Date field. The Credit Card Information window will open.
Fill in the information in the following fields:
Credit Card No. field – enter the customer's credit card number.
Exp. Date field – enter the credit card expiration date in mm/yyyy form.
Name on Card field – enter the cardholder's name.
Address and Zip Code fields – enter the cardholder's address and/or zip code. (optional)
7. Click the Save button.