ACCTivate! has many small, sometimes overlooked features that can facilitate your business processes.
One of these features is the option to include open sales and service orders in credit checking.
If the this option is turned on in the Configuration Manager, all open sales and service orders are included when calculating a customer's credit status. Customers are placed on credit hold immediately if an open sales order is putting them over their credit limit thus preventing an overcharge.
This feature can save your company time and money. Follow the step below to turn this option on and start using it.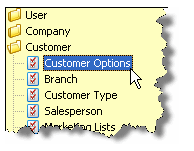 To turn on the option:
Open the Configuration Manager from the File menu
Double-click the Customer folder
Select Customer Options
Check the Include open sales and service orders checkbox