The following message may appear when launching Acctivate (CYMA IV Edition).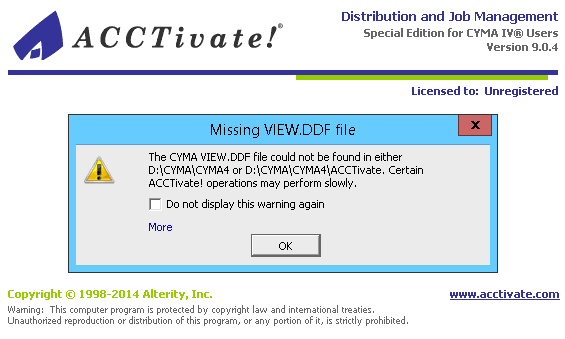 The Pervasive.SQL database for CYMA includes three primary Database Dictionary Files (DDF): File, Field and Index.  The fourth, optional file is View.DDF.  This file improves the performance of accessing CYMA data within Acctivate.
We recommend that you obtain the latest VIEW.DDF file from CYMA support or download the file below (from Alterity).  Our file is known to work with CYMA Version 13.x
The above ZIP file contains a single file, VIEW.DDF.  This file should be saved in the CYMA4 folder on your server (usually C:\CYMA\CYMA4).
To install the file, please use the following process:
Ask all CYMA and Acctivate users to exit both software applications
Restart Microsoft SQL Server (ACCTIVATE) service on the server
Restart BOTH Pervasive.SQL services (Transactional and Relational) on the server.  We recommend using the Services.MSC management console.
Save the VIEW.DDF file into the CYMA4 folder (usually C:\CYMA\CYMA4)
Launch Acctivate on the server (before anyone else launches either application).

The "Checking CYMA database" message may appear, but you should not see the above warning again.

Launch CYMA and/or Acctivate on workstations