Acctivate utilizes the Crystal Reports Viewer when previewing or printing reports. If a default printer is assigned to the report in Configuration Manager, it may take several seconds to load a report in the preview window. This can be caused by the printer being networked but not available to all users on that network, or the printer no longer being connected to a workstation or the network.
If certain reports are taking longer than usual to load in the Preview window (for example, Pick Tickets), there may be a missing or invalid printer assigned to the report in Configuration Manager. This can be verified and corrected by following a few steps:
1. Go to File > Configuration Management > Reports > Report Catalog to open the list of reports utilized by Acctivate.
2. Navigate through the folders to locate the report that is taking a long time to preview. In this example, we'll use the Pick Ticket report located under Order Processing > Forms.
3. Click Edit,  then select the Printer Assignments tab. If an invalid printer is shown in this tab, it can removed by highlighting the row and pressing the delete key on the keyboard.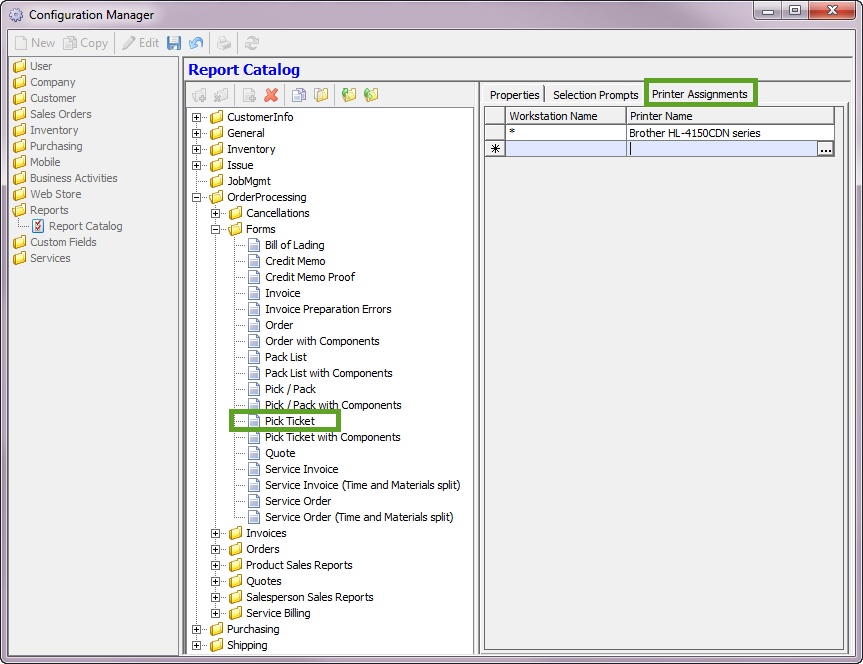 4. From here, you have the option to either leave the Printer Assignment empty for this report, or add a new printer assignment for a valid printer:
Click  the Browse button […] to open the printer selection window.
Select a printer from the drop down list, or choose the XPS Document Writer to print to a file by default. Click OK to return to the Reports Catalog.
To assign this printer to all workstations that run the report, enter * in the Workstation Name Field. Specific workstation names can also be entered here as a comma separated list. When you are finished, click the Save button to save the changes.
Once you have removed or reassigned the default Printer Assignment, run the report again in Acctivate. The time it takes to load should be reduced. If you continue to experience issues, contact the Acctivate support team.