When you install Acctivate on your Server computer, two different Windows directories are created, which contain both program data as well as company data.  Here is a breakdown of both of these directories regarding the contents, the local directory locations, as well as the share and security requirements.
Acctivate Share
Acctivate will install program related files, by default, to C:\Program Files (x86)\Acctivate.  This directory contains the necessary program files for running Acctivate, including the executable.  Also included are any newly distributed Client Components as well as our standard Report files, which can be found in the \\..\Acctivate\ClientFiles and \\..\Acctivate\Reports directories.  If SQL Server is installed via the Acctivate installation, the default location for the database files and backups will be included in the \\..\Acctivate\Database\.. directory.  However, there are many cases in which SQL Server databases and backups are migrated to a separate hard disk, partition, or separate server altogether.
AcctivateData Share
The AcctivateData share contains mostly company specific files, such as the exception log files, custom reports, as well as licensing and configuration files.  This share can be browsed to on the local server in the following location:
For Windows Server 2008 or newer:
C:\ProgramData\Alterity\Acctivate
For Windows Server 2003 or older:
C:\Documents and Settings\All Users\Application Data\Alterity\Acctivate
Share and Security Requirements
In general, Windows users expecting to run Acctivate from a workstation will need to allow "Modify" security and "Change" Share permissions.  When Acctivate is installed on the server, the Acctivate and AcctivateData directories will add the Users group and apply "Modify" security Permissions to both of these directories.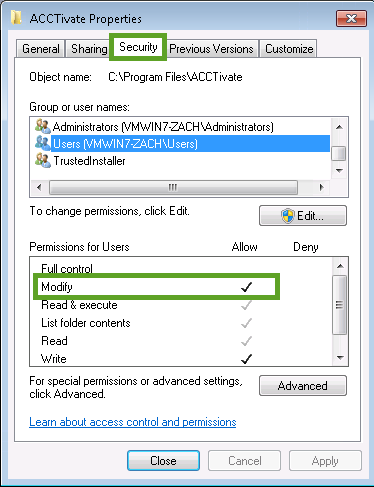 Share permissions on both of these directories are very similar.  The Users Group, or the user group expecting to run Acctivate, will need to allow "Change" share permissions.  Go to the Sharing tab and click Advanced Sharing.  Click Permissions and Add 'Users' to allow the option.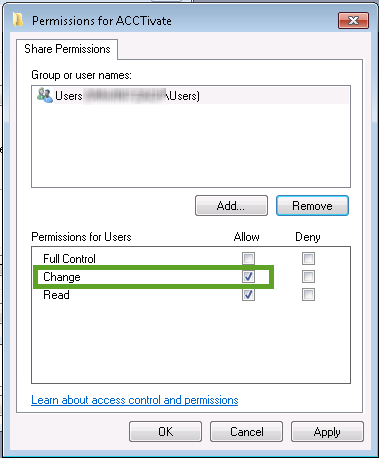 Find out more about setting Share and Security Permissions.