Acctivate may be configured to send email through Microsoft Mail (MAPI) or Simple Mail Transfer Protocol (SMTP). When choosing which protocol to use, it's important to understand the basic differences between the two. This article will briefly explain how SMTP and MAPI email protocols work, as well as when it's beneficial to use one over the other.
Microsoft Mail (MAPI)
How it works:
Emails sent from Acctivate are funneled through Microsoft Outlook before being sent to your email server (which delivers the message to the recipient). This requires Outlook to be installed on the workstation running Acctivate.
Benefits of MAPI
Messages sent from Acctivate can be stored in your "Sent" folder within Outlook
Additional security features included in Outlook
Supports sending and receiving messages
Disadvantages of MAPI
Security settings may need to be configured in Outlook to prevent pop-ups in Acctivate each time a message is sent
Requires an email client to be installed on the workstation
Less widespread support than SMTP
Simple Mail Transfer Protocol (SMTP)
How it works:
Emails sent from Acctivate are pushed directly through to your email server. This setting does not require an email client (like Microsoft Outlook) to be installed on your workstation, but does require some additional configuration in Acctivate in order to be used. You will need to specify the email server address, encryption type, and individual login credentials for each user's email address before sending email from Acctivate.
Benefits of SMTP
Independent of an email client (does not require Outlook to be installed)
No additional security settings to configure
More widespread support than MAPI
Disadvantages of SMTP
SMTP does not automatically save copies of sent emails
Used exclusively for sending email, not receiving
Choosing an email protocol
For most users, the email protocol of choice is dictated by what system they use in their email server. Users with Microsoft Outlook and an Exchange server will almost always use MAPI. Users that utilize other clients like Thunderbird to connect to a free email server such as Gmail, or companies that use Office 365 will likely need to use SMTP settings.
Users that have their email account set up to use POP/SMTP settings in Outlook will not be able to use Acctivate's MAPI settings for their email.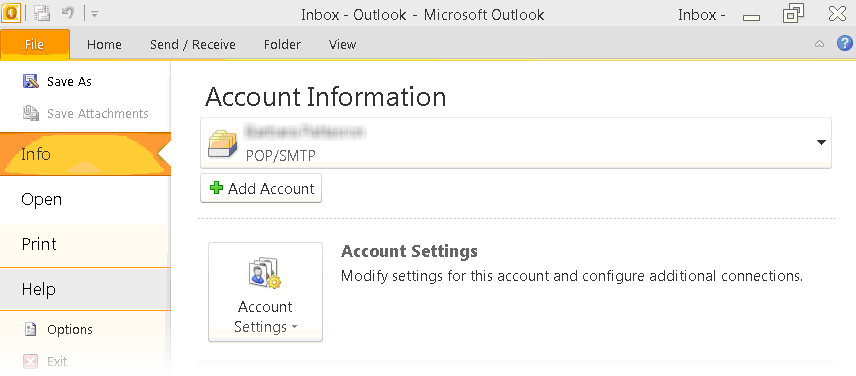 Outlook will pass an error onto Acctivate that states:
"Either there is no default mail client or the current mail client cannot fulfill the messaging request. Please run Microsoft Outlook and set it as the default mail client."
Changing the protocol used to SMTP resolves this error.