The following message may appear when creating a Purchase Invoice when expense account has not been selected on PO:
Missing GL Expense account for line number 1, Purchase Invoice was not created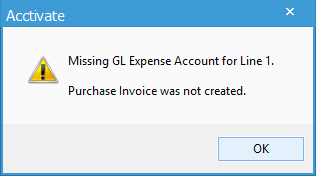 This is most likely the result of Standard Costs for Labor and Non-Inventoried items not being configured correctly.
Verify the cost offset account the for warehouse has been configured.
Verify the cost method for the product has been configured.
The expense account for a PO line is selected from the original purchase order. Use the following procedure to make sure the account is set properly:
Click View PO on Purchase Invoice toolbar
Scroll down to the line number from the popup message
Look for the GL Expense Account (bottom row under unit and price)
If the GL Expense Account is blank, be sure to select the proper expense account and try the Purchase Invoice again
NOTE: COGS accounts are typically selected by Product Class, but you can review the Sales / COGS section of Configuration Management if you're not sure.