A new installation of SQL Server 2014 express may present problems when starting the service at the end of the installation. You can attempt to start the instance by hand using "Service.msc", browsing down to SQL SERVER (ACCTIVATE), right clicking the instance and clicking start, however you may get the error message below.
Unable to open the physical file "e:\sql10_main_t\sql\mkmastr\databases\objfre\i386\model.mdf". Operating system error 3: "3(file not found.)".
You can attempt to reinstall the instance, however the installation will still attempt to open the master database in a location that may not exist. To correct this, follow the steps below…
Follow this article to correct the incorrect master files location and reset SA: https://social.technet.microsoft.com/wiki/contents/articles/31786.sql-server-not-starting-after-fresh-installation.aspx
Once the master files are pointed to the right directory, open SQL Server Management Studio, login as user SA
click on the NEW QUERY button on the top left
 Run the query below.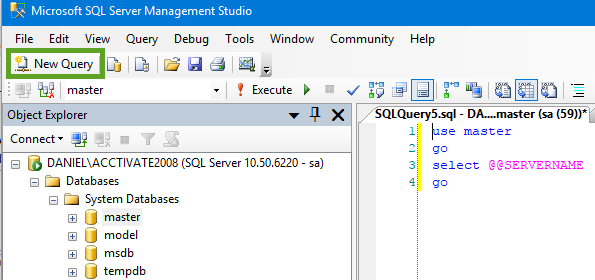 use master
                go
                select @@SERVERNAME
                go
If the result of the query returns a null value, run the following script below. Where SERVERNAME and INSTANCENAME are replace with their respective values.
                sp_addserver 'SERVERNAME\INSTANCENAME', local

After that's set restart the SQL Server instance and attempt to start Acctivate.