TLS 1.0 is a protocol used to provide privacy and data integrity between two communicating computer applications.
The following "Unable to login to database server" message could occur if TLS 1.0 is disabled.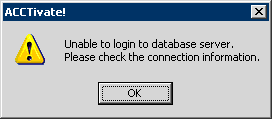 In order to check to see if TLS is enabled, go into your registry using registry editor.
It is recommended to first back up the registry before making any changes.  Please refer to the Microsoft Backup the Registry article before proceeding
Open Windows Registry by using the RegEdit command from the start menu
Navigate to HKEY_LOCAL_MACHINE\SYSTEM\CurrentControlSet\Control\SecurityProviders\SCHANNEL\Protocols

Confirm TLS 1.0 is enabled under protocols
If TLS 1.0 is not enabled change the DWORD Values under Server and Client keys by right clicking and selecting modify

DisabledByDefaul [Value = 0]
Enabled [Value = 1]

After making any changes, reboot the server so the settings can take place.
If you are still receiving the error please refer to our Common Causes for "Could Not Connect to SQL Server" article
For any further assistance please contact Acctivate support for more assistance