Users may upload and attach files to a record in Acctivate, using notes.  Users may create notes and upload attachments on the following windows.
Activity
Customer Account
Customer Credit
Customer Location
Sales Order
Sales Invoice
Purchase Order
Purchase Invoice
Product
Track and Trace
To attach files:
First, open the window of the record where you want to upload the document
Next, click on the Notes tab.
Click New to create a new note
Type additional information in text box
Click the paperclip icon and select the file, then click Open
Save and Close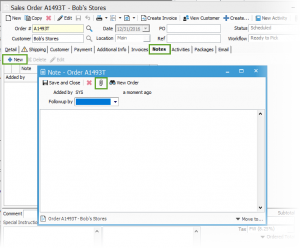 The note and attachment should now appear on the window.