In past versions of Acctivate, users could use the Inventory Mgmt tab of Business Alerts (now called the Reorders tab) to create Purchase Orders for in demand products, based on defined Inventory Requirements. Starting in version 10.3, users are able automatically generate Assemblies based on inventory requirements in Business Alerts. This article will show how this works in Acctivate.
The screenshot below shows the Assemblies tab of the Business Alerts window. Much like the Reorders tab, the Assemblies tab shows inventory requirements for warehouses related to Assembly products. The list of Assemblies can be narrowed down to only show a specified warehouse by selecting it from the drop-down. Options also exists to only show Assemblies which are currently on open Orders, and/or to only show products which are currently below the defined Min Stk Qty. Clicking on an individual product line will show the Suggested Assembly Build quantity based on the inventory requirements. In this example, the fourth line is selected (K10-L in the F warehouse). On the right, you can see the selected Product ID and Description, related warehouse, quantity on PO/unposted Assembly Builds (18), OnHand (200), Reserved (0), Min Stk Qty (25) – Max Stk Qty (50) and Min Order Qty (50). Acctivate uses these inventory requirements to populate a Suggested Assembly Build quantity. If an Assembly product is on any open Orders within the selected warehouse, they will show in the 'Build for' section with the related backordered quantity to that order. In the screenshot below, we can see that K10-L is on two open orders in the F warehouse, A1501T with a backordered quantity of 3 and A1515T with a backordered quantity of 4. The Qty field will show the backordered quantity on an order, as that is the outstanding quantity required to fill the order.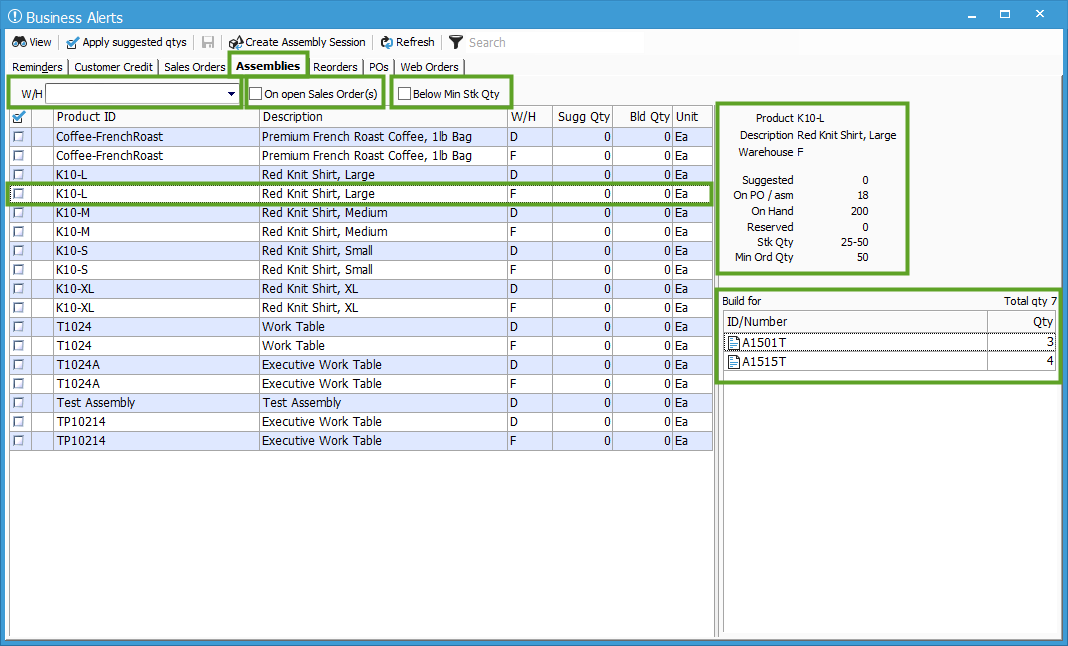 Users can manually check each Assembly product/warehouse where they would like to create a new Assembly Build session to add inventory. Acctivate will show the Suggested quantity in the Sugg Qty field, based on inventory requirements. Users can manually set whatever Build quantity they wish in the Bld Qty field. Users could also select to "Apply suggested qtys" which will automatically select every Assembly/warehouse with a Suggested quantity, and will automatically set the Build quantity to match the Suggested quantity. Once all desired Assembly products/warehouses have been selected with the desired Build quantity, click Create Assembly Session to create the new Assembly Build session. Users can also select to Save, which will save the quantities entered in this window until they're ready to create the Assembly Build session.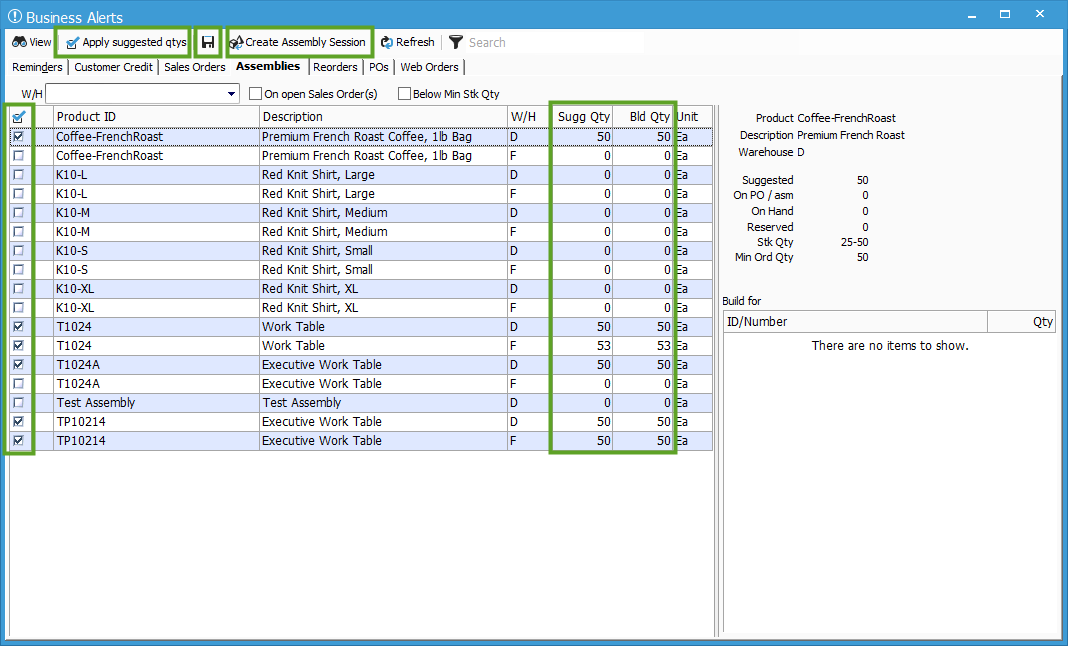 Selecting to Create Assembly Session will create a single Assembly Build session. Different Assembly products/warehouses will be split out into different Transactions within new session. Click the Transaction drop down to see other Assembly Builds within the session.