When an EDI 850 Customer Purchase Order is brought into Acctivate and Invoiced, the Invoice is automatically selected to be sent back to the partner as an EDI 810 Customer Invoice. If an order is created for an EDI partner in Acctivate manually (without an 850), an option exists to also send these invoices to the partner as an 810 file. This article will show where this option is set.
Open Configuration Manager > Edi > Trading Partners
Select the Trading Partner
Choose the Customer Invoice Tab
Click Edit and select EDI Only or Include All from the drop down.

If set to EDI Only, invoices will only be sent as an 810 if the related order was created from an 850.
If set to Include All, invoices for orders 'not' generated through and EDI 850 can still be transmitted as an 810.

Click Save and exit configuration manager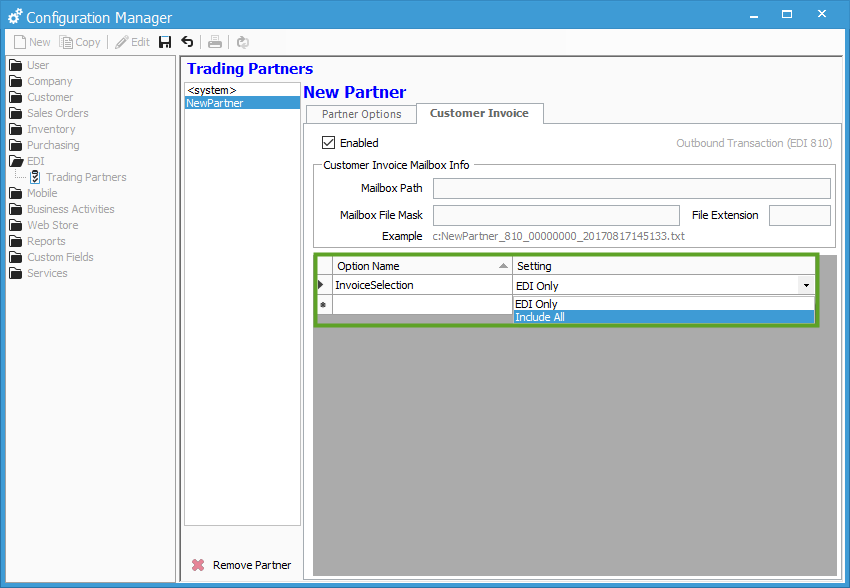 Process EDI to generate invoices
Click the EDI Menu > Process EDI
Acctivate should find invoices for the trading partner
If No Invoices are Found or you need Specific Invoices
You may to use the filter by Date or Invoice Number.
In the EDI window
Select the Trading Partner Name under Customer Invoice
Check the box to Use Filter
Choose Re-submit date or Re-submit range
When finished Click Process
You have now generated EDI 810 Customer Invoices for Non-EDI orders