When sending email from Acctivate using Microsoft Outlook, some users may receive a message stating: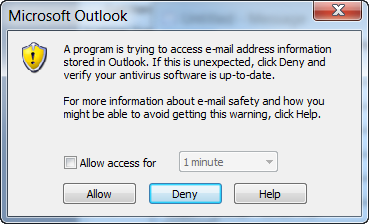 The prompt is actually returned by Outlook. You can follow the directions given by Microsoft for Configuring Outlook Security Features to Help Prevent Viruses, then go to the next chapter in the list to the left, which is called "Installing the Outlook Trusted Code Control".
Go through them all until you get your default security settings set up. Once this has been completed, you need to click on the "Programmatic Settings" tab and check "Automatically approve" for "When sending items via Simple MAPI:" and "When resolving names via Simple MAPI:".
Once these settings are saved, Outlook will no longer prompt you when you send e-mail through Acctivate.