Crystal Reports can be used to create very complex reports in Acctivate. However, the Microsoft SQL Server 2005 database engine has a limitation that you may run into when working with large reports. The following error may appear when running a large report: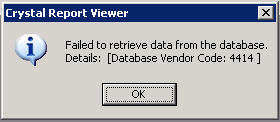 A single database query is created for the entire Crystal Report. Microsoft SQL Server 2005 limits the number of tables in a query to 256.
This limit can be quickly reached when using some of the more complex data views in Acctivate. For example, the ProductWarehouseSummary view utilizes many database tables to produce a single record. Including this view multiple times in a report may trigger this limitation.
Another example is the "Issue" data view. We recommend switching from using "Issue" to "BusinessActivity" to avoid this error and increase performance.
This limit has been removed in SQL Server 2008. You will need to either upgrade to SQL Server 2008 or adjust the Crystal Report to use less complex data views (e.g., ProductWarehouse instead of ProductWarehouseSummary).
More Information
SQL Server 2005 Limits
SQL Server 2008 Limits