Once you have created an Acctivate company against your QuickBooks file, items are marked as Inactive in QuickBooks.
New Items created in QuickBooks will NOT synchronize to Acctivate.  A new QuickBooks item is created for each Acctivate Product Class.  Sales Invoices synchronized to QuickBooks will use the corresponding Product Class item, but include the Acctivate Product ID and Description in the QuickBooks invoice line description as well.
Acctivate Product F120 with a description of Lateral File in the Furniture (Furn) product class would appear on the QuickBooks invoice as "Item Supl" with a description of " F120 – Lateral File"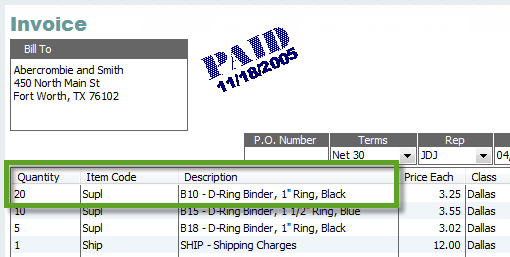 Acctivate Product Class IDs must not conflict with existing QuickBooks Items.  You will need to rename any legacy QuickBooks items to avoid synchronization errors.  We recommend using the "Old" suffix.  For example, if you already had a Furn Item, simply rename the item in QuickBooks to be Furn-Old.