The Help menu in Acctivate contains valuable information, including the option to view your Acctivate License, see which users are currently logged in, and review usage metrics that can be helpful when troubleshooting.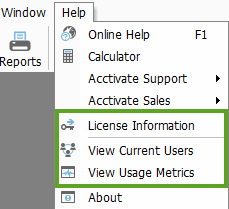 License Information
To view information about your Acctivate license, go to Help > License Information. This will open a window containing a list of all Acctivate modules you have purchased. If a recently purchased module does not appear in this list, click the "Refresh" button to update your license.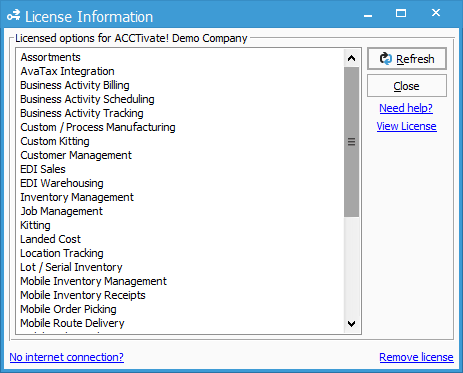 The following Standard Modules are included in Acctivate:
Optional Add-On Modules may include:
Location Tracking
Batch Process Manufacturing
Shipping Workstation
Lot / Serial Inventory
Customer Self Service
Web Store Integration
Business Activity Tracking
Purchasing Wizard
Kitting / Assortments
Business Activity Scheduling
Mobile Inventory Receipts
Mobile Order Picking
Mobile Inventory Management
Mobile Sales Orders
Business Activity Billing
EDI Manager
Packaging Manager
Mobile Route Delivery
Lot / Serial Track and Trace
Current Users
To view a list of users currently logged in to Acctivate, go to Help > View Current Users. This will open a window that displays the User ID, Company, Workstation, and Logon time for all users that have Acctivate open. If a user appears in this list that is not logged in, you can use Computer Management on your server to close any unnecessarily opened Acctivate files.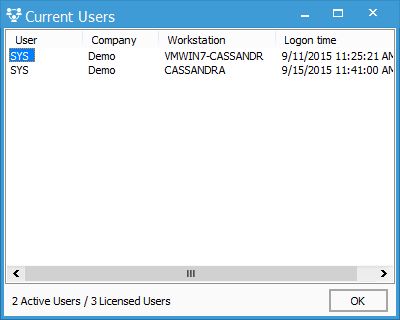 Usage Metrics
Acctivate tracks statistics based on usage. This can be helpful when troubleshooting things like performance issues, or to see a total count of certain records such as Customers or Sales Orders. Usage Metrics can be accessed by going to Help > View Usage Metrics.