Acctivate and QuickBooks both allow for a single Credit Card number to be stored for each customer.  However, Intuit introduced new security measures in QuickBooks 2008 to comply with the Payment Application Best Practices (PABP).
The QuickBooks SDK no longer allows access to credit card information for third-party software.  While we understand and appreciate this concern, this obviously makes things difficult for third-party software integrating with QuickBooks.
In response, Acctivate added an option to synchronize the customers' credit card number (one way) to QuickBooks.  If you're processing credit card transactions in Acctivate or need access to the credit card information.
*NOTE: Please be aware, Customer Credit Card information may be removed or overwritten in QuickBooks if the option 'Copy Acctivate Credit Card information to QuickBooks' is enabled.
File → Configuation Management → Customer Options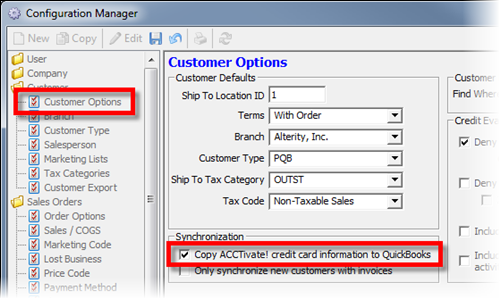 For additional information or to submit an Online Support Request:
In Acctivate, select Help > Acctivate Support > Request Support.

You can also go directly to the Support page to open a new or view old requests. Be sure to have your Acctivate ID and Password handy as this requires a log in.

Complete the form, attach any pertinent documents, and click Submit.
You will have an option to chat now with the support team, if you require immediate assistance.
Note: Responses to web requests are from no-reply@acctivate.com. Please add this address to your "safe senders" list in your email application to ensure that our responses get to your inbox.